PRODUCT SPECS
| | |
| --- | --- |
| Number of Occupants | 2 |
| Tent Fabric | Kerlon 1800 |
| Season | 4 Season |
| Wall Type | Double Wall |
| Floor Area | 30.1 sq ft / 2.8 sq m |
| Vestibule Area | 13 sq ft / 1.2 sq m |
| Total Area | 43.1 sq ft / 4 sq m |
| Minimum Weight | 5 lbs 1 oz / 2.3 kg |
| Packed Weight | 6 lbs 9 oz / 3 kg |
| Inner Height | 38 in / 95 cm |
| Number of Vestibules | 1 |
| Number of Entrances | 1 |
Hilleberg Nammatj 2 Tent
AVG. PRODUCT RATING
WRITE REVIEW »
PRODUCT DESCRIPTION
The Hilleberg Nammatj 2 is the best choice for any outing in any condition where low weight is of equal importance to strength, reliability, and roominess. The Nammatj 2 is arguably our most versatile tents. Made with our Kerlon 1800 outer tent fabric and employing 10 mm poles, they are equal in strength and stability to our Keron models, but because of their single entrance and vestibule, they are impressively light-weight. Its an exceptional choice for all season use in exposed and/or above tree line terrain, or for demanding, extended winter camping trips in extreme conditions, yet they are also easily light enough for long trips in more moderate climes. The Nammatj 2 has a smaller footprint than the Keron counterpart model, yet it has the same inner tent square footage, and so are excellent for limited-space sites such as narrow ridge lines or ledges.
The Nammatj 2 is the master of both high and low country, equally suited for a high altitude expedition or a weekend walk in the local hills.
Features
• Tunnel design, with its single-opening, continuous pole sleeve construction and linked inner and outer tents makes the Nammatj and Nammatj GT easy and quick to set up
• Kerlon 1800 outer tent fabric and 10 mm poles make for an exceptionally stable tent
• Pitching requires only four pegs, yet additional peg and guy line points provide a myriad of options for increasing stability
• Spacious interiors with full sitting height in most of the inner tent, one vertical inner tent entrance, and, thanks to the tunnel design itself, near-vertical side walls
• A single entrance and vestibule afford easy access and plenty of storage space, but keep the weight very low
• The Nammatj 2's ventilation system functions regardless of the weather conditions, since the inner tent fabric is highly breathable yet water repellent, and since each end has a large vent, placed high enough to keep air moving even if the tent is dug down into deep snow.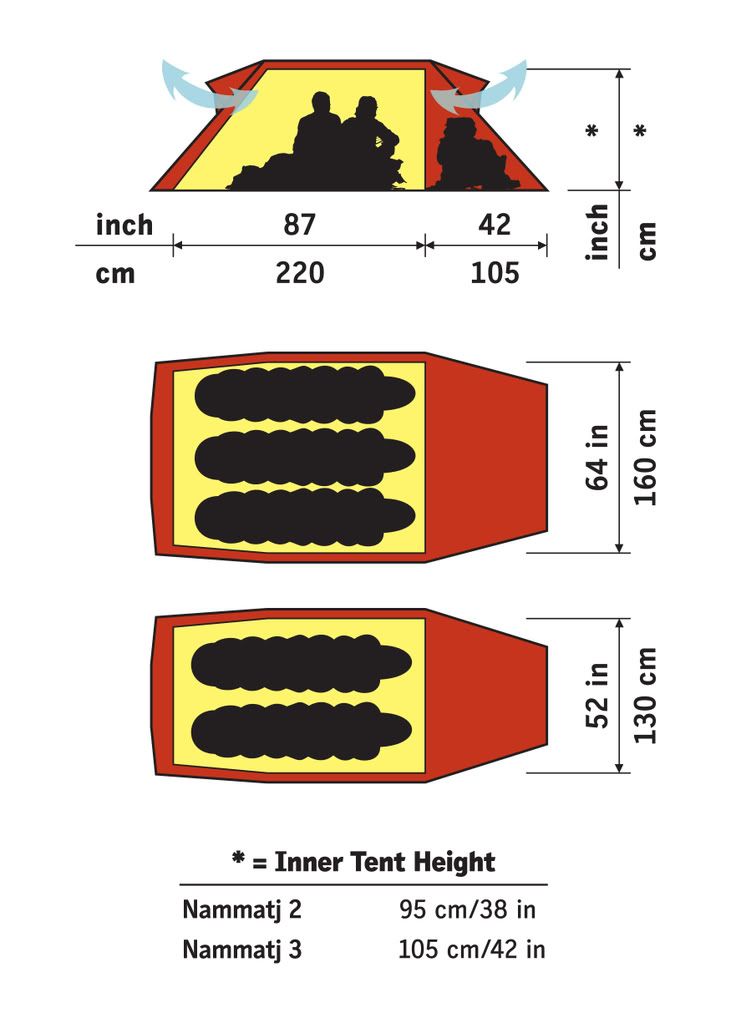 NOTE: This product only ships to North America
GEARED UP GALLERY
Check out this product in action!
YOU MAY ALSO LIKE
Reviews (0)
EVENTS
Backcountry Sessions: Tuning 101 W/ Greg - Free admission
TUESDAY, JANUARY 27TH
...
LEARN MORE »