PRODUCT SPECS
| | |
| --- | --- |
| Number of Occupants | 3 |
| Tent Fabric | Kerlon 1800 |
| Season | 4 Season |
| Wall Type | Double Wall |
| Floor Area | 40 sq ft / 3.7 sq m |
| Vestibule Area | 14 sq ft + 14 sq ft / 1.3 sq m = 1.3 sq m |
| Total Area | 68 sq ft / 5.4 sq m |
| Minimum Weight | 9 lbs 15 oz / 4.5 kg |
| Packed Weight | 11 lbs 7 oz / 5.2 kg |
| Inner Height | 46 in / 115 cm |
| Number of Vestibules | 2 |
| Number of Entrances | 2 |
Hilleberg Saivo Tent
AVG. PRODUCT RATING
WRITE REVIEW »
PRODUCT DESCRIPTION
Backordered tents will ship in 7 to 10 days
The Hilleberg Saivo Tent is a supremely strong self-supporting tent that can handle any situation in any kind of weather. The three person Saivo is Hilleberg's flagship dome tent. This is an outstanding all-around tent for adventures where absolute strength is the highest priority. The Kerlon 1800 outer tent fabric and 10 mm poles put them among Hilleberg's most robust tents, and the dome design gives them great static strength for handling heavy snow loading. Ideal for use in exposed and/or above treeline terrain in the most extreme conditions, yet because it is self-supporting and easy to pitch, the Saivo is also equally at home in protected conditions, all year round. The roomy two door/two vestibule configuration, along with its static strength, make it an exceptional base camp tent, where the users will leave camp unattended for extended periods of time.
Features
• Dome design is self-supporting, and its innovative short pole sleeve and clip system construction, uniform length poles, and linked inner and outer tents make for quick, easy set up: only the vestibules require pegging out, and in nice weather these can be completely rolled aside
• Multiple guy lines afford even greater stability, especially as many of the guy line attachment loops are designed to be wrapped around poles or pole crossing points
• Guy lines on the vent cover add yet another level of stability to both tents
• The interior is quite spacious thanks to near vertical inner tent entrances, and only mildly sloping walls
• The Saivo's entrances are asymmetric: you can enter and exit from either side or from the end of the vestibules, meaning you can always get in and out in the lee of the wind and keep rain from getting into the inner tent during entering or exiting
• The Saivo's ventilation system functions regardless of the weather conditions, since the inner tent fabrics are highly breathable yet water repellent
• The outer tent vents can likewise be fully opened and closed, and have integrated snow-proof panels, which are air permeable even when the vents are zipped up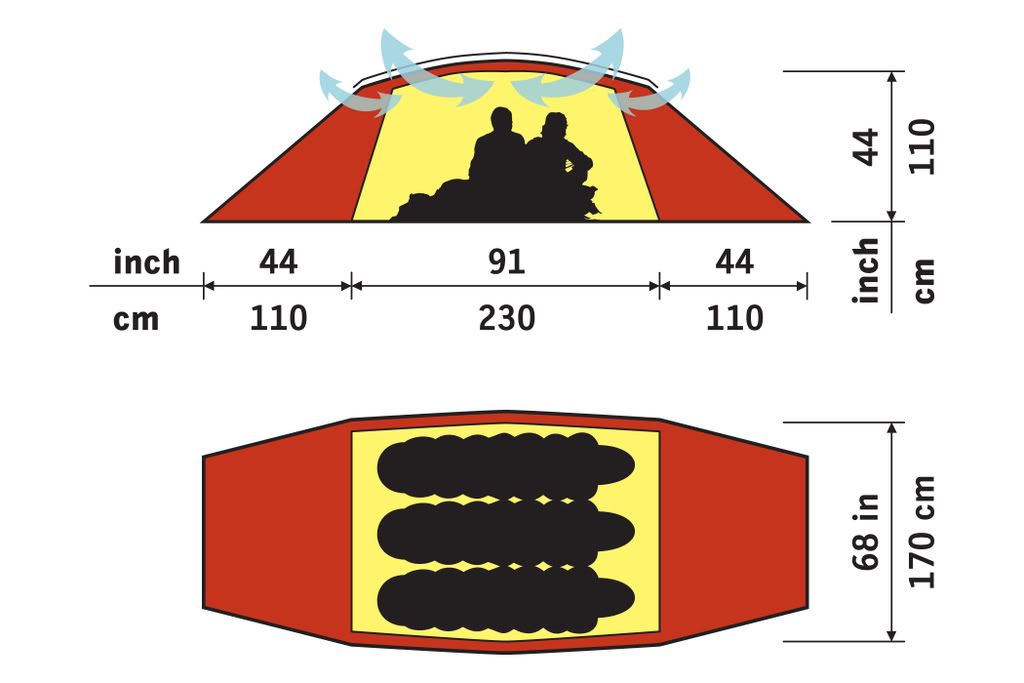 NOTE: This product only ships to North America
GEARED UP GALLERY
Check out this product in action!
YOU MAY ALSO LIKE
Reviews (0)
EVENTS