PRODUCT SPECS
| | |
| --- | --- |
| Number of Occupants | 2 |
| Tent Fabric | Kerlon 1800 |
| Season | 4 Season |
| Wall Type | Double Wall |
| Floor Area | 35.5 sq ft / 3.2 sq m |
| Vestibule Area | 9.7 sq ft + 9.7 sq ft / .9 sq m + .9 sq m |
| Total Area | 54.9 sq ft / 5 sq m |
| Minimum Weight | 7 lbs 8 oz / 3.4 kg |
| Packed Weight | 8 lbs 13 oz / 4 kg |
| Inner Height | 42 in / 105 cm |
| Number of Vestibules | 2 |
| Number of Entrances | 2 |
Hilleberg Staika Tent
AVG. PRODUCT RATING
WRITE REVIEW »
PRODUCT DESCRIPTION
Because of its Kerlon 1800 outer tent material, 10 mm poles and completely free standing design, the Staika excels on any journey where absolute strength is the highest priority, and where terrain could create difficult pitching conditions. Easy to pitch and fully able to handle heavy snow loading, the Staika will serve admirably in both exposed and/or above tree line and protected terrain, year 'round, in any and all weather conditions. And thanks to its spacious two door/two vestibule design and excellent static strength, it makes a superb base camp tent, where users will leave the tent unattended for extended periods of time.
Features
• The Staika's dome design is completely free standing, and the vestibules are included in the self-supporting structure. Its innovative short pole sleeve and clip system construction, same length poles, and linked inner and outer tents make for simple and quick set up. Its design allows for a very compact footprint without sacrificing interior roominess
• Kerlon 1800 outer tent fabric and three 10 mm poles in true dome configuration make for an exceptionally stable tent with outstanding snow-load handling capability
• Pitching requires no pegs, but 16 peg points provide options for increasing stability: six loops at each pole end, one point on each of the four non-door outer tent panels, and six double guy lines with double line runners, one along each pole line
• Both the floor space and head room are quite spacious thanks to the three pole structure and dome design
• Two entrances and two vestibules afford tremendous convenience, flexibility and comfort. And the two vestibules are parallel to the sleeping area, so access to gear stored there is wonderfully convenient you can even get at it while lying in your sleeping bag!
• Dual entrances ensure that one door can always be situated out of the wind
• The Staika's ventilation system functions regardless of weather conditions, since both the inner tent's fabric is highly breathable, and since there are two roof vents integrated into the top of the doors
• Extra sliders on the outer tent doors provide plenty of adjustment options, and one entire side of the inner tent door opening is a no-see-um mesh panel covered with an equal sized, zipper-adjustable fabric panel
• The top portion of the outer tents' doors are made of highly air permeable yet water resistant, snow-proof fabric panels, so air flows freely, even when the panels are zipped closed
• A separate vent cover ensures that the weather stays on the outside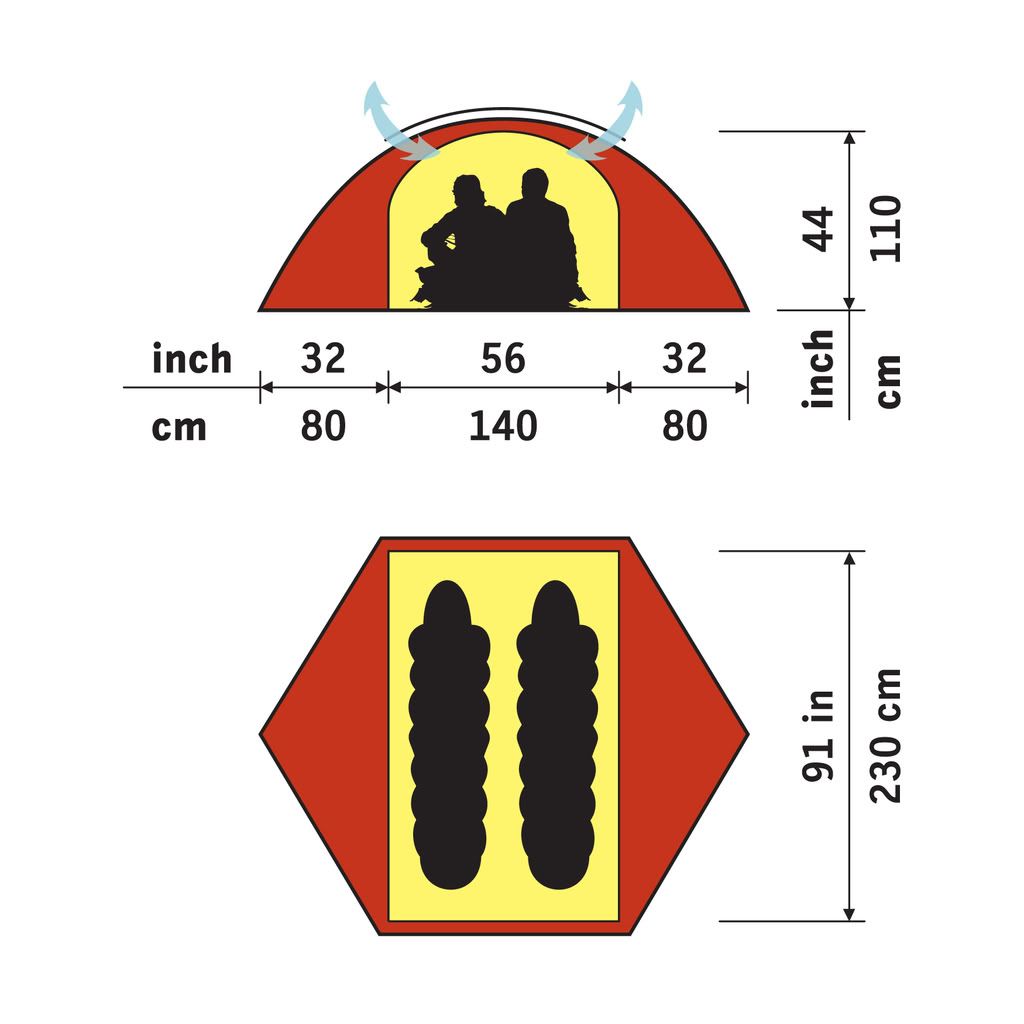 NOTE: This product only ships to North America
GEARED UP GALLERY
Check out this product in action!
YOU MAY ALSO LIKE
Reviews (0)
EVENTS