John Scalese - 23 / Nov / 2020
Fresh, Not Deep
Back in October of this year, one of our employees and most dedicated skier's search for fresh snow brought him to a local area known for its mountain biking and trail running - NOT for skiing.  Check out his musings on on his uniquely fun, if not questionable, adventure below.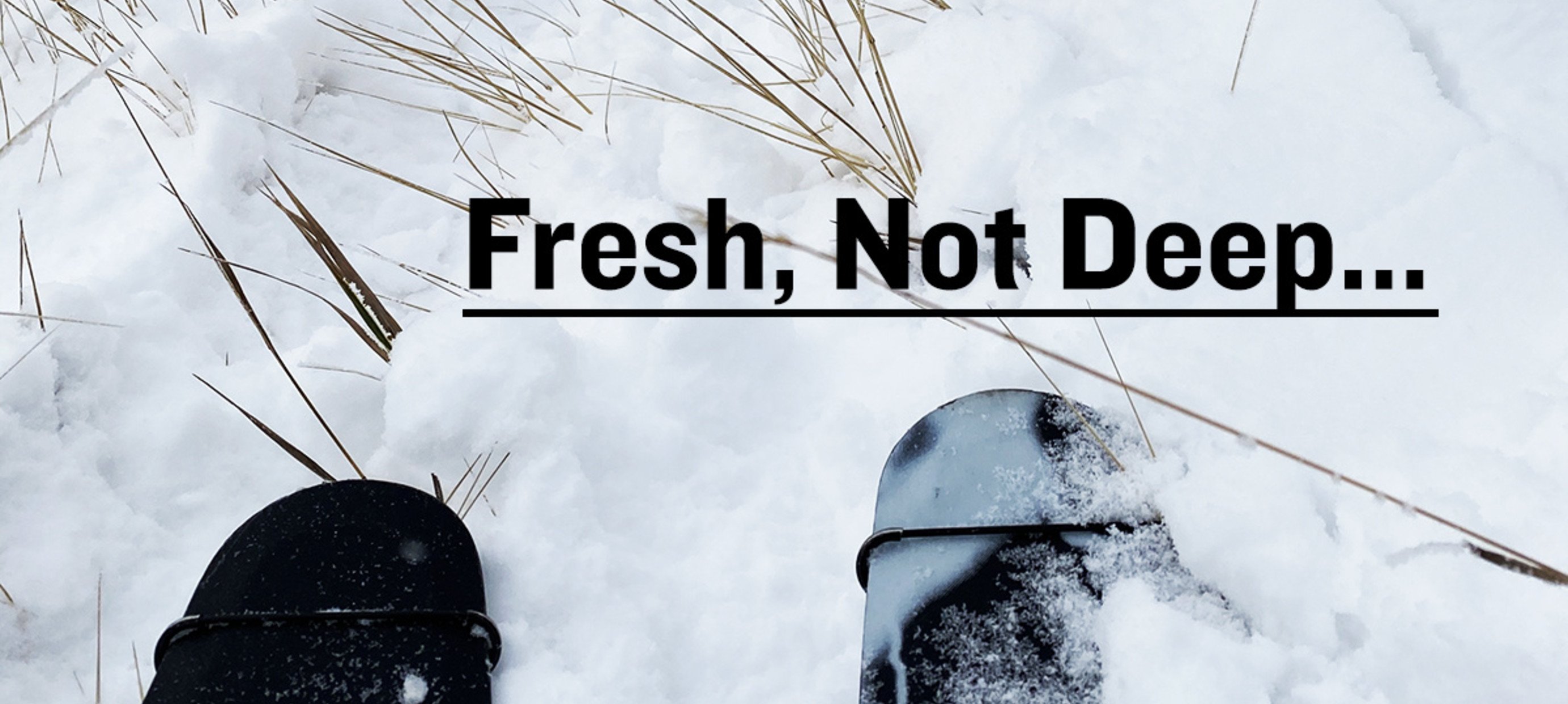 Making turns all year is a great way to ensure mountain visits in all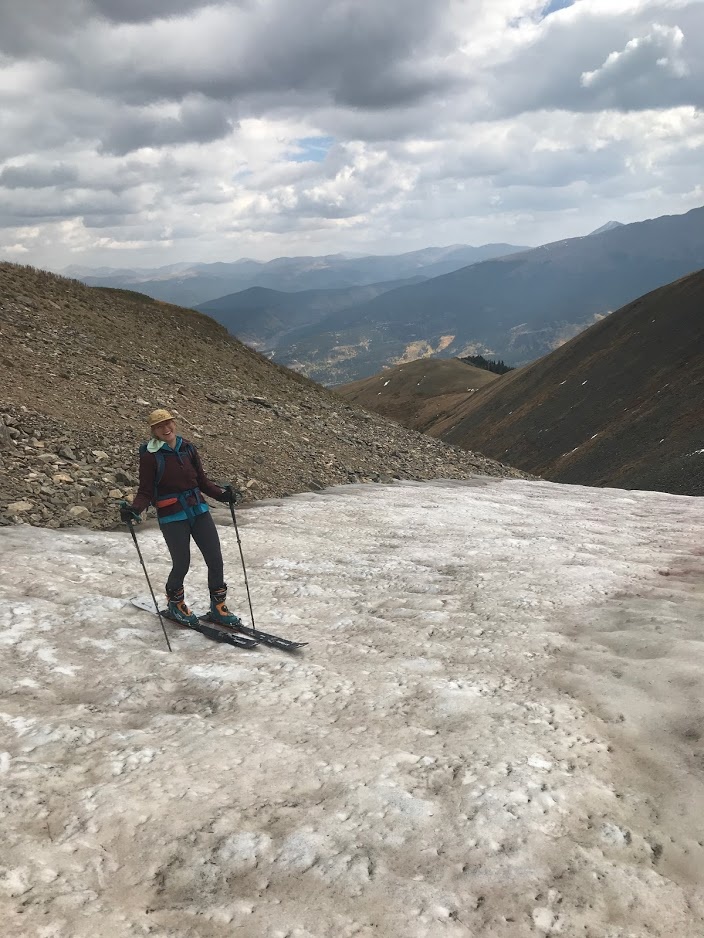 seasons with skis. 
May, June and July are amazingly fun months to be out with skis. There is so much to ski as the snow transitions into a stable snowpack. 
In August and September, it becomes all about a pretty hike to a patch of snow. Laughs are had alongside the refrozen sun cups. 
October has traditionally been when the snow moves in and we can get back to softer days. 
This October was unusually warm and dry, which had an impact on getting the obligatory turns in. 
And finally, the last week of the month presented itself with a decent snowfall. Looking at the snow totals, I was glad to see 18-24 inches fell in the hardest hit zones of wildfires. The 10" + on the Continental Divide was tempting, but the closures of national forest lands in the front range due to the wildfires presented a bit of a challenger to answer the question, "Where to ski?" 
Knowing that cover was going to be thin no matter the location, I opted for some Jefferson County Open Space where I've looked at meadows while trail running, wondering how they would ski. 
I grabbed my skis and headed to White Ranch Open Space. 
For those not familiar with White Ranch, it is Jefferson County open space property, known for its variety of trails for hiking, trail running and mountain biking. There are no long climbs, no steep pitches. It really isn't a place to find great skiing, especially in October.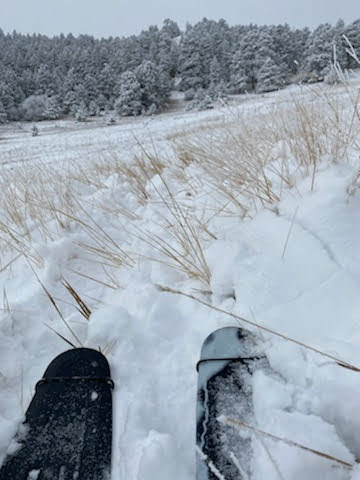 Expectations were low. I was planning on laughing a lot. 
The upper parking lot was empty at 8:00am. The 3 degree temperature may have had something to do with that. But, the 8-10 inches of snow in the unplowed parking lot held promise. Boots on, skins on, I'm off. For any of you questioning how much I care about my skis (or my sanity) please note I highly value my ski equipment and meticulously care for it. This includes the rock skis I got out of the trash (and mounted brand new bindings on). 
It didn't take long for me to find my not-really-secret stash.  Lots of grass sticking through the snow made me smile at the term "meadow skipping". 
Yup, a mellow meadow seemed perfect.  I was sure to set a skin track that would keep me out of the "prime" skiing (as if anything here would be considered prime).
The uphill was only a few minutes of work, getting me into the trees above the meadow.  The hope was to get a more variable snowpack with sticks and grass. 
I transitioned. If it were not for the cloud cover and flurries, I could have seen my house.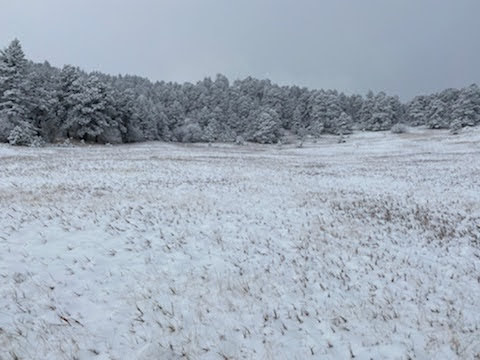 Yes, it was going to be minimal coverage on a firm base of grass and sticks. Thoughts of snow snakes gave me a brief pause. I broke a few ribs mid-November last season due to getting caught up in debris hidden in a base much deeper than this. No bones about it, I really didn't want to repeat that. 
But, there it was:  about 170 vertical feet of 15 degree snow-covered meadow.  Seriously, White Ranch skiing???  Then I heard the powder pig from within saying..."shut up and ski it."
It was NOT stellar. Crunchy and not deep. Many sticks were breaking at the apex of a turn as I moved out of the trees. Then it was jerky jerky grabby grass turns.  Making ungraceful fall line turns I could sense the wind and grin on my face. 
All too soon, the meadow flattened out and the lap was over. Looking up at my turns, I knew more skiing was required.  I headed up and reconnected with my original track, back up to transition.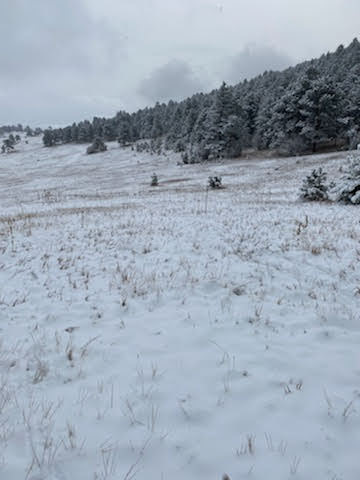 The grassy snow on skiers right beckoned.  Sweet, and boot buckle deep.  Repeat....repeat. 
I can't say I tracked out that meadow, but I needed to get home. 
The short drive home left me satisfied with the day.  But now the anticipation of storms coming to the mountains, forming a base and allowing for full on winter conditions has gotten me very stoked.  Now, I'm excited to spread my stoke to the customers at the shop. 
Let's all do our best snow dance (and maybe a sacrifice of old skis to Ullr) in hopes of bringing more snow to the area for a deep base to snuff out all the wildfires and get conditions bottomless.