Karakoram Women's Prime SL Binding 17/18 SM Clearance
Product description
The PRIME SL-W is a tried and true high performance backcountry tool for women.  Designed to minimize weight while maintaining riding and touring performance of your splitboard, the PRIME SL-W allows you to jet up the skin track and charge any line on your way down.
ACTIVE JOINING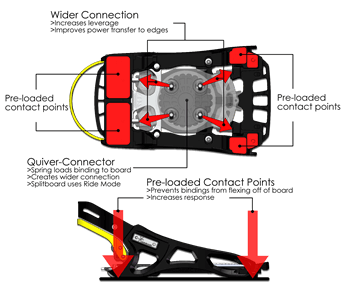 NO SLOP— INSTANT RESPONSE.
Pre-loaded binding to board connections give instant response. The most responsive connection for snowboards and splitboards.
DUAL RIDE-STRIDE
RIDE, TURN, STRIDE.
Quick 1/4 turn from ride mode to walk mode
Ride Mode: 0° to 22°, in 2° increments
Surf Mode: 0° or 11°
Walk Mode: -8° allows for longer stride
AIR-FLOW HIGHBACKS
SUPER LIGHT.
Medium Flex (6 of 10)
Dual Ride-Stride Forward Lean adjustment for Splitboarding
Flex-Lock compatible for Splitboarding
OPEN CHASSIS
NATURAL BOARD FLEX.
Open chassis allows board to twist naturally under binding
7075-T6 HEELCUP
2X STRONGER.
2x stronger than standard Aluminum
CNC core outs maximize strength-to-weight ratio
High sidewall supports boot for better power transfer and grip while side hilling
Flared sidewall cups boot for better fit
AIR-FORM STRAPS
NO PRESSURE POINTS.
Independent Pressure Pods articulate to boot eliminating pressure points and pinch points.
WIDE CONTACT POINTS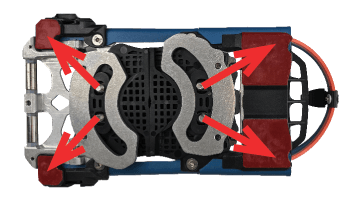 DIRECT POWER TRANSFER.
Wide binding contact equals power transfer directly to edges and tip to tail.
ACTIVE JOINING
INSTANT RESPONSE.
Pre-loaded binding to board connections give instant response.
DROP ON CHANGE-OVERS.
Active joining allows for a loose fit then closing the lever locks your binding to board, removing all play from the system.
NO SLOP.
TOUR MODE
TIGHTEST AND SMOOTHEST TOUR PIVOT.
Independent sleeves rotate freely on a fixed through axle (similar to a bike axle) for the stiffest and smoothest touring pivot
Wide support cradle increases tour mode rigidity
Offset cradle allows snow to clear during entry
Quick release touring bracket allows for quickest and simplest transition
DUAL SPEED RISERS
POLE BASKET FLIP.
Flip up with pole basket; simple and easy
Dual height climbing risers
LOCK YOUR HEEL.
On-the-fly heel lock down
Release load equivalent to DIN 6
Heel-Lock folds out of way when not needed
Karakoram

$524.99$699.99