Anna Norman - 29 / Sep / 2020
A Tale From the Tread: The Story behind Revelo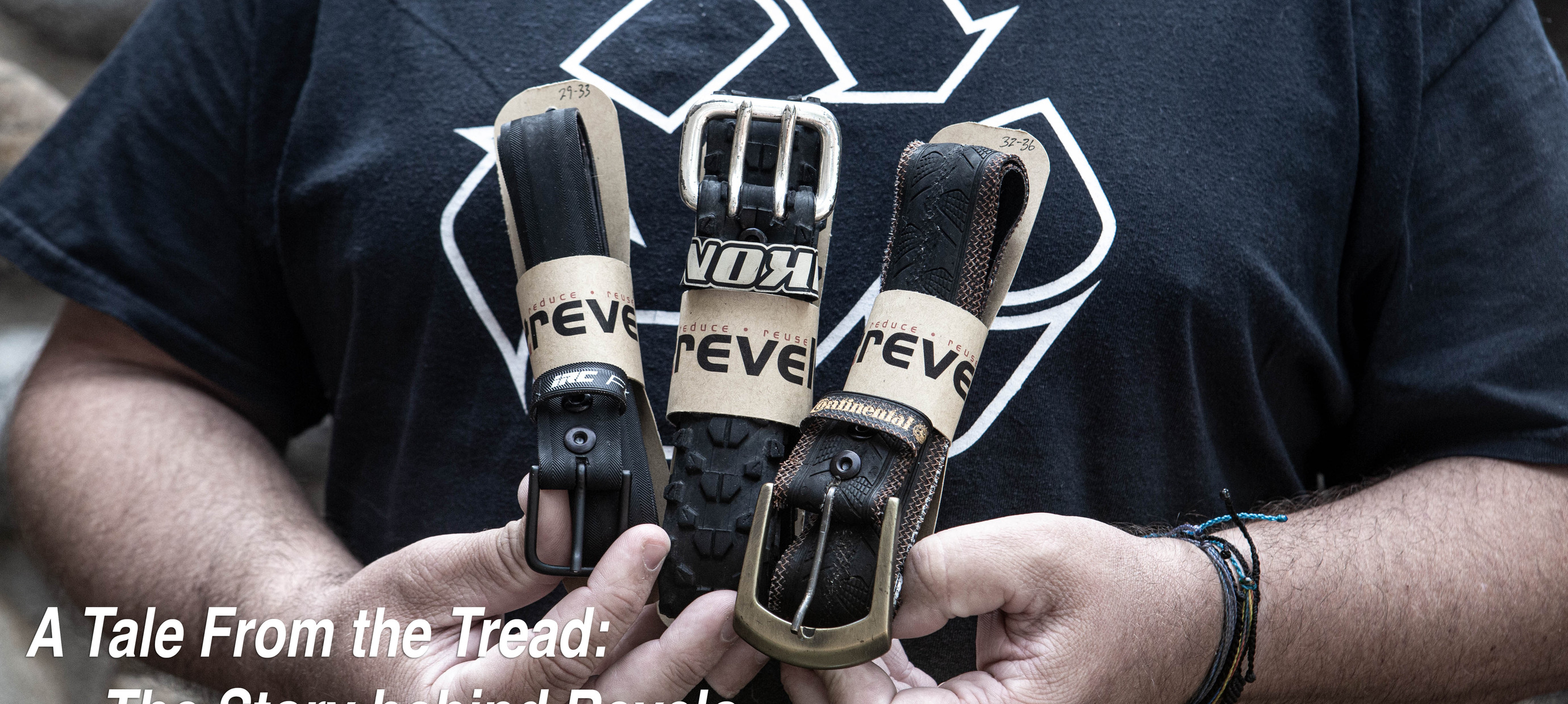 Somewhere in a basement workshop in Longmont, CO there resides an ancient sewing machine with an oversized motor that makes a lawn mower's pale in comparison. That's what Joel, founder and sole-employee of revelo, uses to hand-stitch his creations. Revelo makes everything from belts to frame bags using recycled bike parts. This vintage appliance isn't the only thing that makes revelo unique. Joel's company has become ingrained in the local bike community, uses a creative approach to sourcing materials, and maintains clever product design. I was fortunate enough to sit down with Joel and learn more about the origins of this distinctive company.

A photo of Joel's basement workshop in Longmont, CO in it's "natural habitat"
"I think it's interesting that a degree in culinary arts is actually a science degree." 
Joel explains.
"There is a unique blending of the terminology of the two. There is a lot of science from the denaturing of proteins to the way that sugar changes when you bake it. But there's so much art in the creativity, everything from simple plate presentation to the building of layer upon layer of flavor" Joel, whose whole life has mostly revolved around food and biking (a complimentary duo if you ask me) spent his career as a chef working in Las Vegas under big restaurateur names such as Emeril Lagasse and Wolfgang Puck. So it comes as no surprise that on average he was spending 20 hours a day in the kitchen while carving out a few hours here and there to drive to the nearby California desert to pursue his passion of European style road bike racing. Balancing this hectic lifestyle with the potential start of a family was the primary motivation in a shift towards a simpler living. However the major catalyst came down to something as small as a cut in his finger - literally.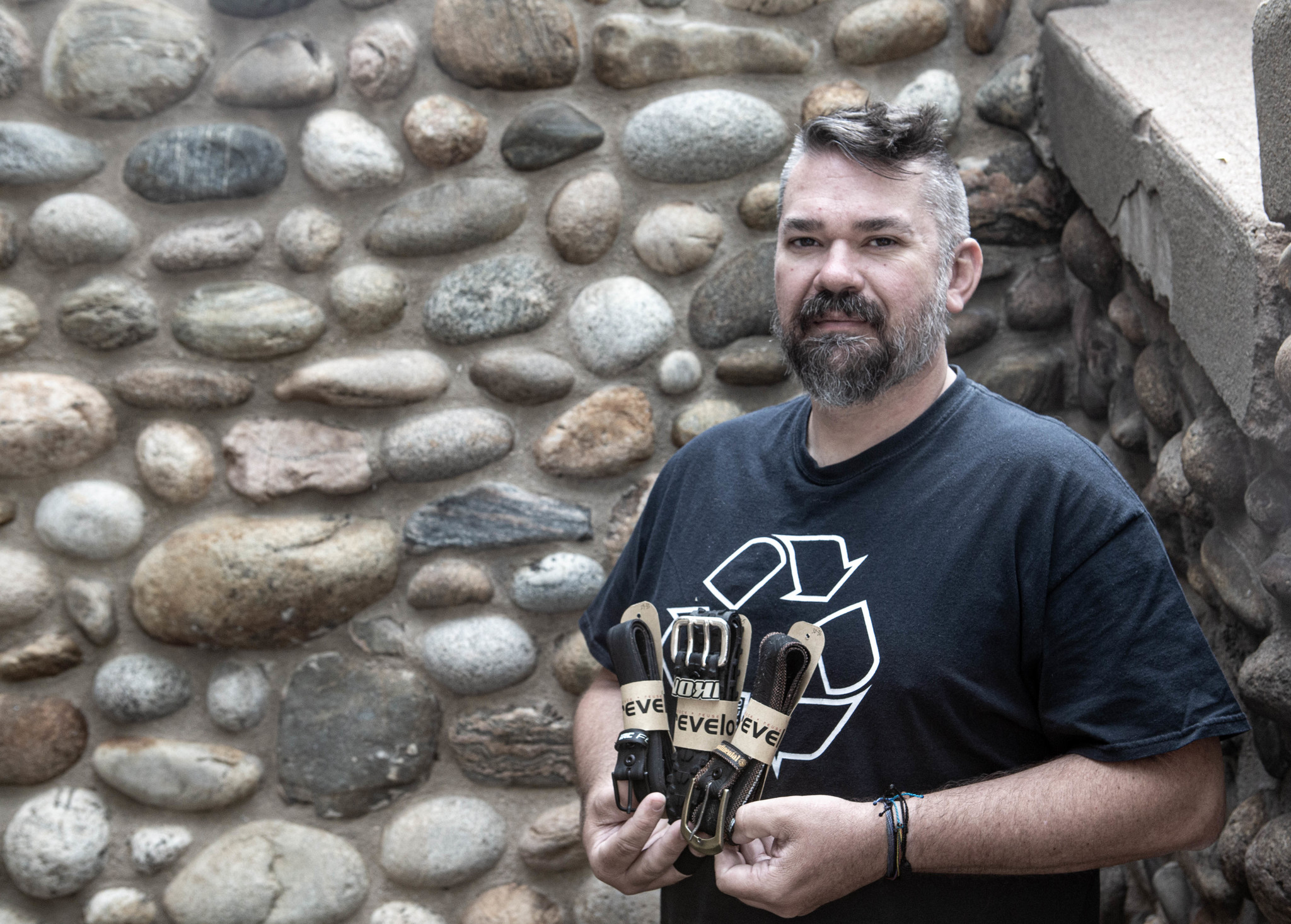 Joel holding his creations in their recycled packaging. 
The initial career transition came about when Joel happened upon a new Whole Foods being built south of his neighborhood. As the first Whole Foods in the South Pacific region to do Texas-style Barbeque in store they needed someone to lead that program - and that's where Joel came in. His job revolved around the smoker, developing recipes that are still used in Whole Foods nationwide to this day. This new opportunity granted Joel more consistent working hours allowing him to develop his biking career and start a family. Life was slowing down but the work remained steadfast, that is until one fateful day in the kitchen.
As a long time chef, Joel was privy to the occasional knife nick here and there, but not one that would turn his world upside down. A small slice on his finger at work turned into a two year endeavor of battling a mystery infection, a close call for amputation and eventually a major career shift. In a way this tiny cut, something initially small and unassuming turned life-changing, was an emblem for the growth of Revelo.
Born primarily out of a bout of insomnia, the first Revelo belt was created with a spare belt buckle and old racing tire with a circular claim to space in the closet. This was the first "prototype" which Joel wore to work at Whole Foods the next day. Immediately, the unique belt was noticed by a coworker and she questioned where Joel got it. His answer was as simple as the belt itself, "I made it." Which she followed with a "can you make more?" Shortly after, a run of forty homemade belts ended up in the store and were sold out quickly. What Joel didn't know at the time is that this day would end up becoming the start to what revelo is today. 
The finger injury didn't just affect his ability to work with his hands in the kitchen but also posed a myriad of health problems that interfered with his cycling lifestyle. Many of which Joel still struggles with to this day. Faced with these new challenges, Joel needed to find a way to adapt and continue his pursuit of passion. So he turned back to that sleepless night, and found the answer in revelo. "It's a hobby that makes me money," Joel explained, "It fills that creative void that was left in the kitchen, as well as the science of actually executing the product creation."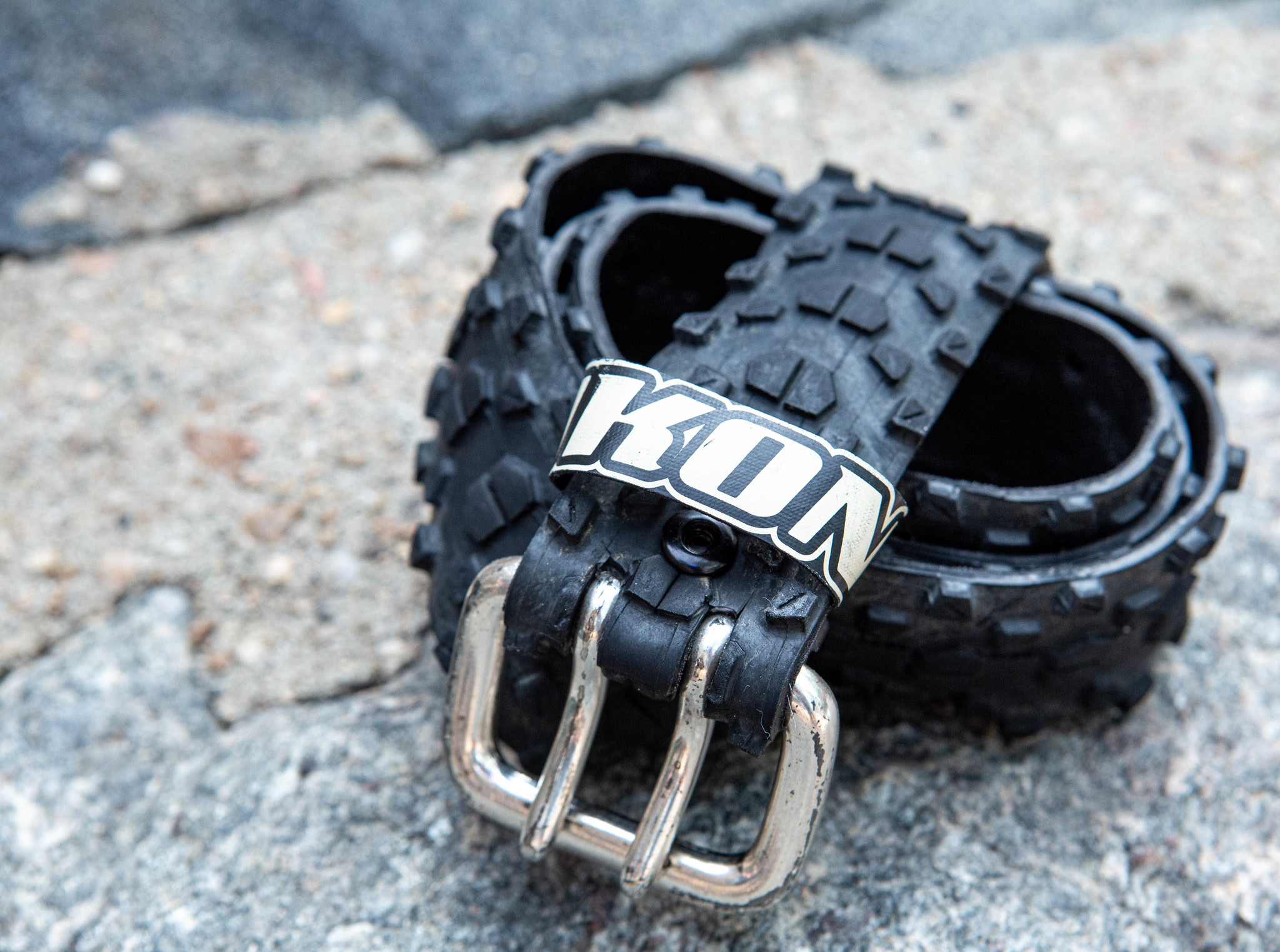 A belt made from an old mountain bike tire with the "IKON" logo on it. 
Working with primarily pre-existing recycled materials Joel has managed to keep around 3,000 pounds of product a year out of landfills. This ranges from old inner tubes to torn up vinyl from racing banners. Beyond the positive environmental impact that Revelo has, it also helps out the local bike shops that Joel sources the materials from, saving them time, money and resources on recycling these parts. 
Joel's story isn't the only one that makes these belts unique. The inherent nature of the material used with these products come with a history embedded in the tread.  Bike parts in particular often have a sentimental attachment: the tires that carried someone across the finish line at their first road race or the popped inner tube that evolved a ride into a memorable hike. Beyond the hypothesized yet unknown past of these materials, there also remains the eccentric characteristics to each product. Even if two belts are made from the same old tire, the discrepancies in the way the tread wears makes each of these belts completely unique from one another. These details are the most obvious to Joel as he designs and makes each item by hand in his basement workshop in Longmont, CO. Joel also repairs the items by hand when needed, adding another evolution to their story. Ultimately creating a product with one of the longest life-spans around. 
Revelo serves as a way for Joel to remain in the bike community, the same community he's known since he was a kid riding around the gravel roads of rural Nebraska. Now, instead of on the pavement he finds himself across the counter; talking the same jargon with a different perspective.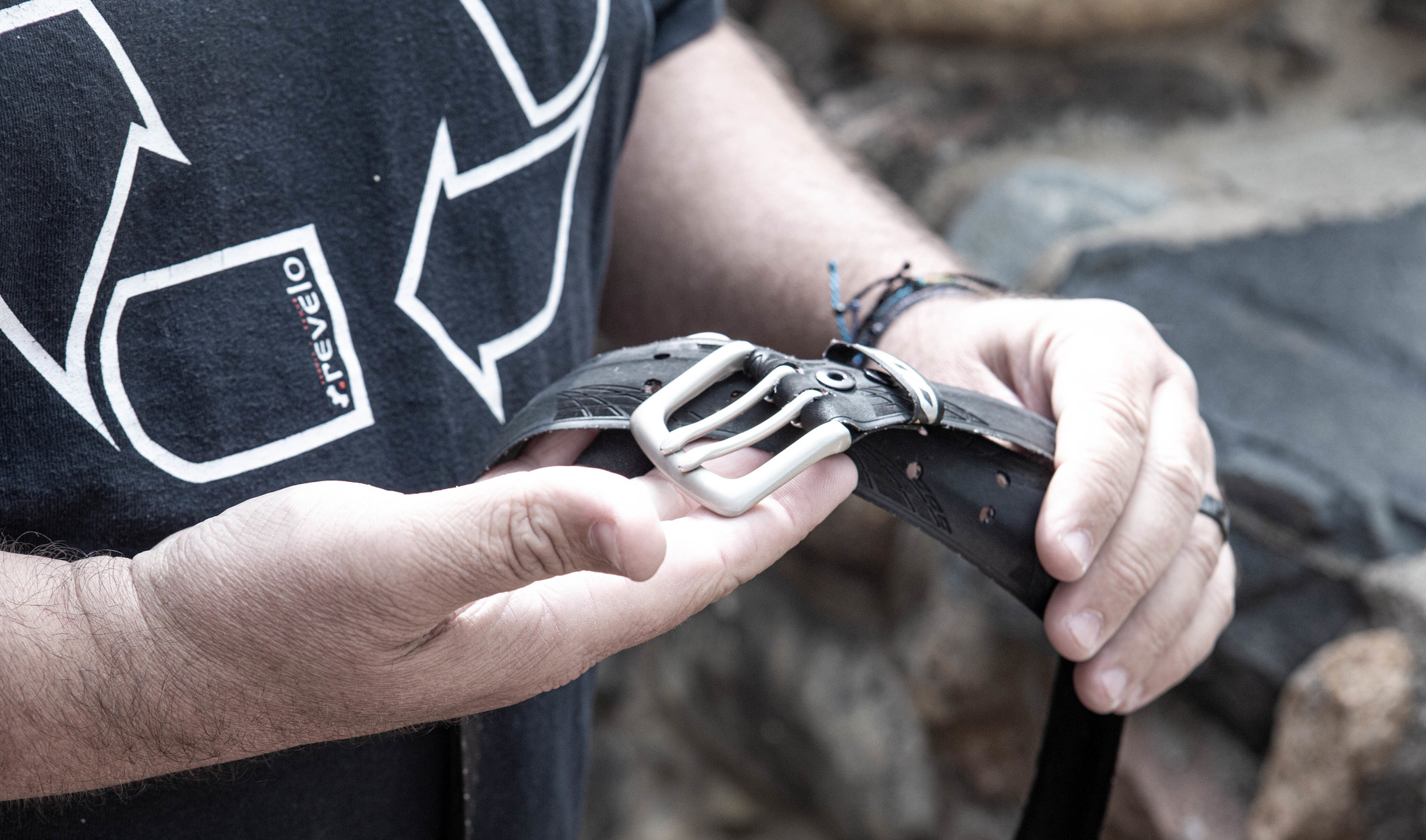 A new life given to an old belt buckle. 
A biker myself, I haven't been known to pay much attention to the detail in the tread; rather looking ahead at the rocks I have to roll over or the hills I have to climb. But upon looking at the box of belts Joel brought with him that day I could see their story come to life. Each belt was worn in a completely different way with distinctive features such as washed out logos sewn on top that were perfectly imperfect. It felt like a scene out of Toy Story, where instead of action figures coming to life it was inner tubes. 
The motivation for this company initially stemmed from one of life's more challenging moments. However, it evolved into a sustainable way for Joel to pursue a full time career that allowed him time for a family, granted him a way to remain in a community that risked being lost and has a consistent, positive environmental impact. The motto of revelo is reduce. reuse. revelo. A simplistic play on the words we all sing in our heads when standing by those big blue bins. What it really pays homage to is the simplicity behind these handmade and thoughtful products that stems from a complicated past. So next time you are out riding pay attention to the way your tires have worn over time, the sun fades on vinyl banners around town or the subtleties in your grip tape from where you place your hands. Maybe you'll have a chance to add to their story.
Click here to learn more about revelo. 
You can find revelo belts for sale on bentgate.com.