Anna Norman - 22 / Jan / 2021
Bentgate's Ultralight Ski Pack Showdown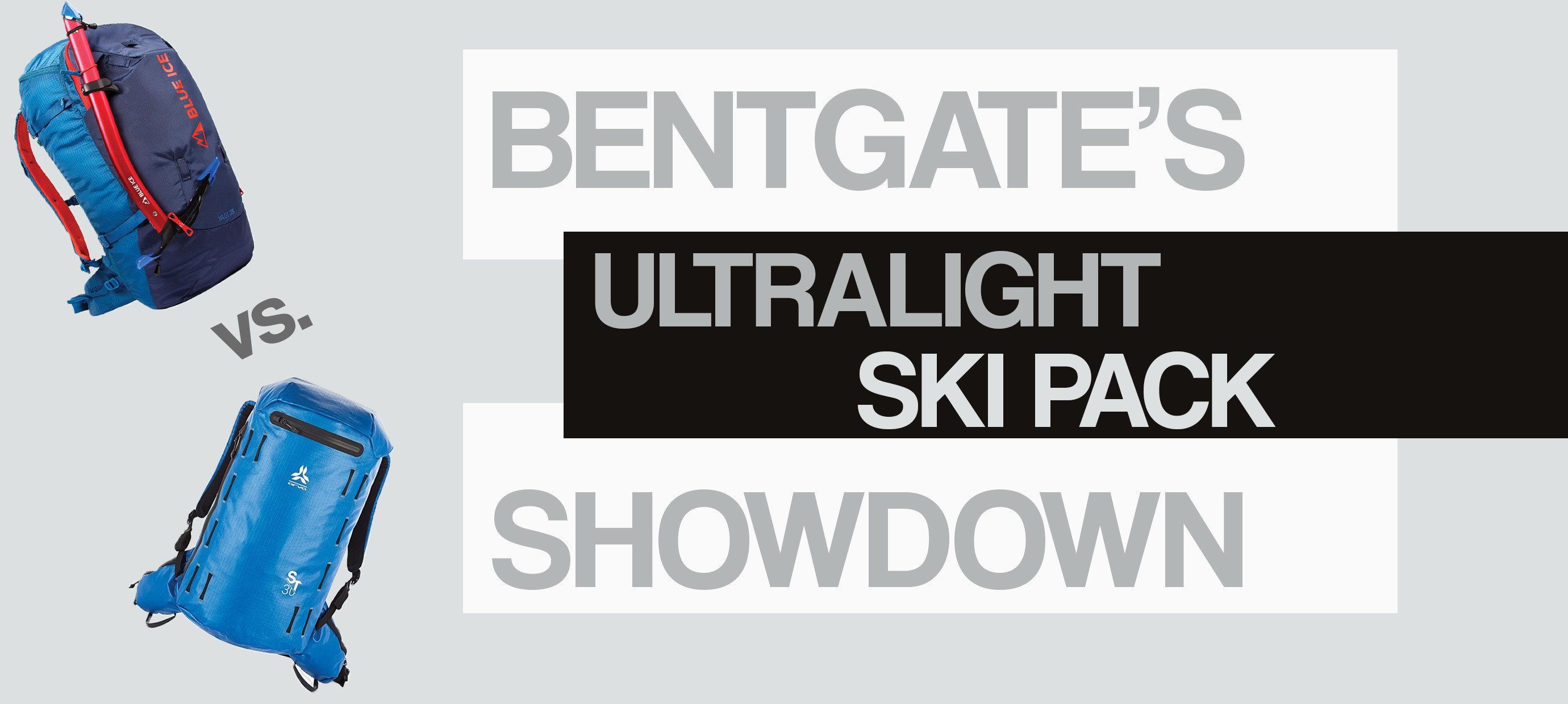 It's no secret that this year is like no other when it comes to skiing and riding. At the resort the normal storage conveniences are no longer available. You become your own basecamp. In the backcountry, gear organization is essential to your safety. Which falls just above the importance of your snack accessibility. With all this in mind - you want a pack that won't hold you back. That's why we've chosen two minimalistic, lightweight, and versatile ski packs to compete in the very first Bentgate Mountaineering Gear Showdown. Our Contestants? The innovative Yagi 35L from Blue Ice vs. the versatile ST30 Ski Trip from Arva. Let the games begin!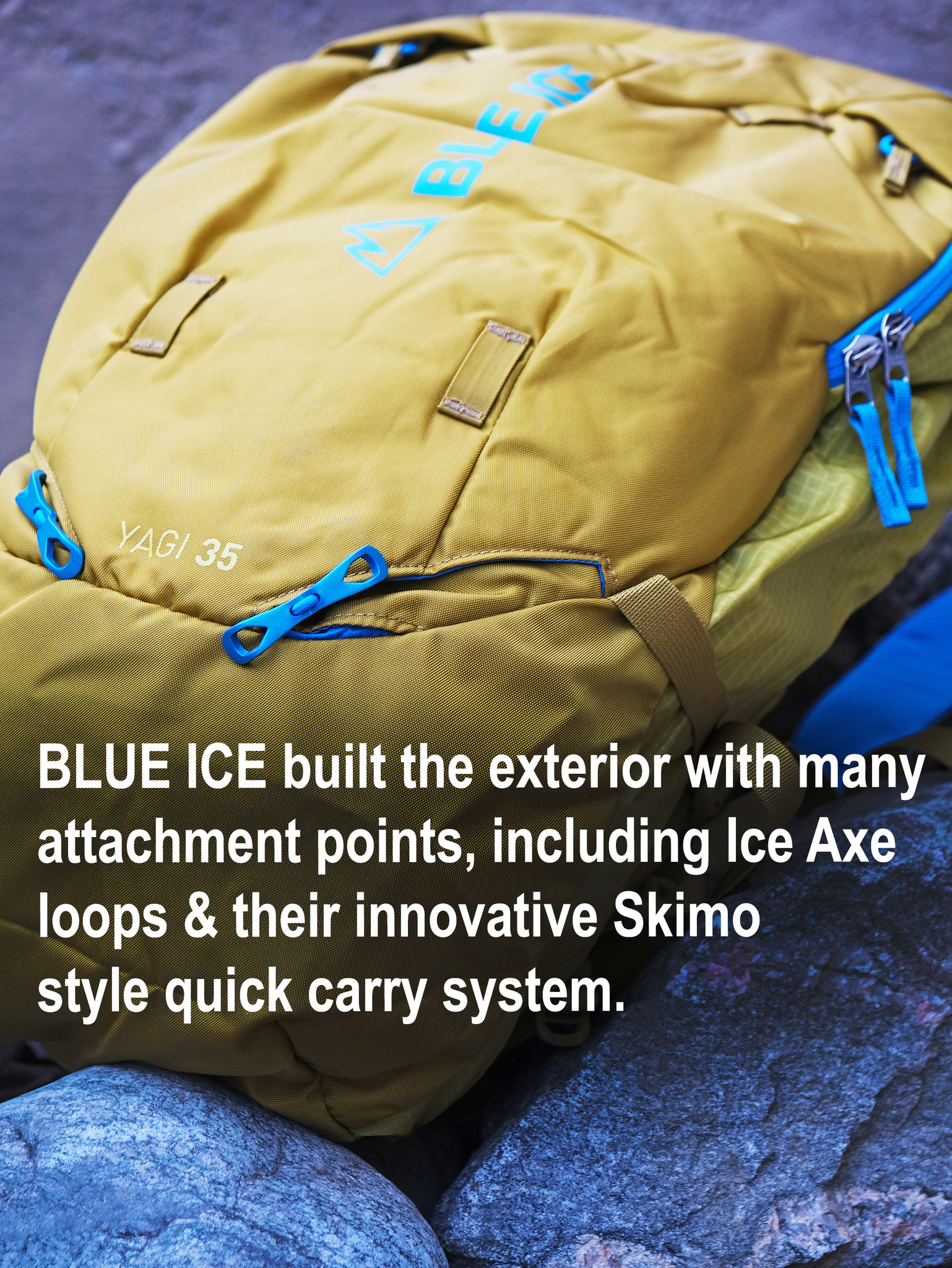 Blue Ice: The Yagi 35L Ski Pack 
Blue Ice is a new comer on the scene. This international company is based out of two outdoor mecca's: Salt Lake and Chamonix. Their team is a coalition of experienced engineers, designers, and outdoor enthusiasts from various walks of life in the outdoor industry. They set out to combine their talents to challenge industry standards and push the boundaries of mountaineering, climbing and ski touring equipment. "Technical, efficient, and lightweight" Is Blue Ice's self-described "state of mind." That certainly holds true with the Yagi 35 Liter Ski Pack. This pack comes in two unique color options: Super Lemon and Ensign Blue. The pack construction centers around a minimalist, ultra-lightweight design. They use Spectra Fiber as the main material. This unique fiber helps save weight with impressive durability - it has a tensile strength 15 times stronger than steel. The innovation doesn't stop there as the Yagi blows it's competition out the water with a plethora of ski carrying options.It comes with the traditional diagonal system, as well as an A-Frame carry option. Beyond that they've integrated a "race mode" so that you can load or remove the ski without even having to take the pack off your shoulders. Perfect for ski mountaineering.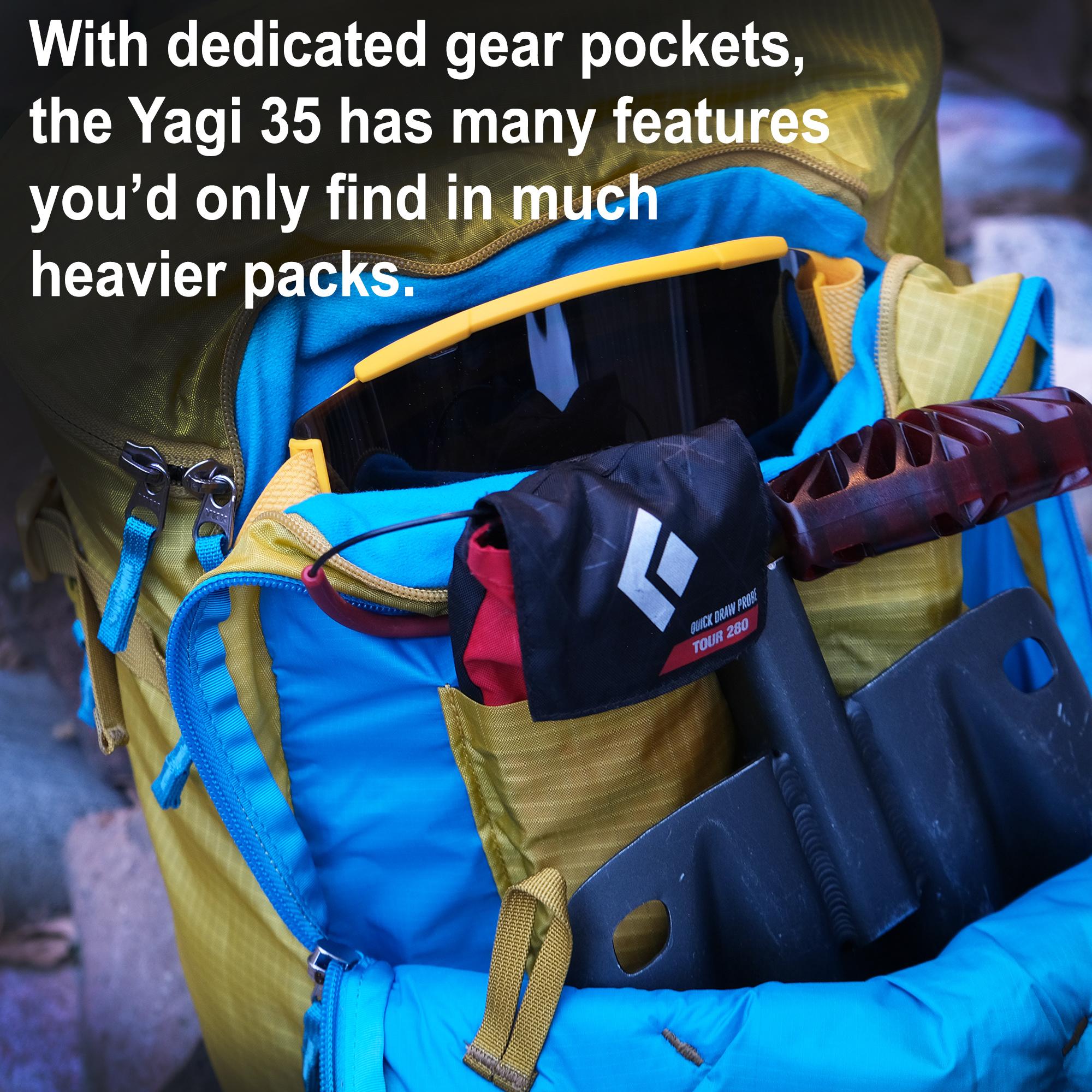 The performance continues in the interior. It features a wide opening for easy access into the main compartment, which can also be accessed from a side zipper. There is also a dedicated avalanche compartment to keep your avalanche safety equipment quickly accessible. The fleece-lined pocket on the top is a perfect place to stash your goggles or sunglasses without damaging them. For the more vertically inclined, there is a dual ice axe carrying system built into the outside of the pack.Topped off with an external helmet holder to keep interior space efficient and a hip belt pocket for quick snacking. At this point you may be asking yourself: what doesn't this pack do? The answer is simple, not much. It pretty much has every feature you need for the resort and backcountry alike. It's got big shoes to fill but Arva puts up a good fight.   
Arva: The ST30 Ski Trip Pack 
Arva is a female-founded company based out of the French Alps for over 30 years. They have a reputation for innovation as the first company to introduce an avalanche transceiver to France. They also launched one of the very first all digital transceivers ever. Now it's a household name among ski patrollers and search and rescuers world wide. To this day it's a private, independent and family-owned company which allows them to keep making some of the best avalanche safety and ski gear out there.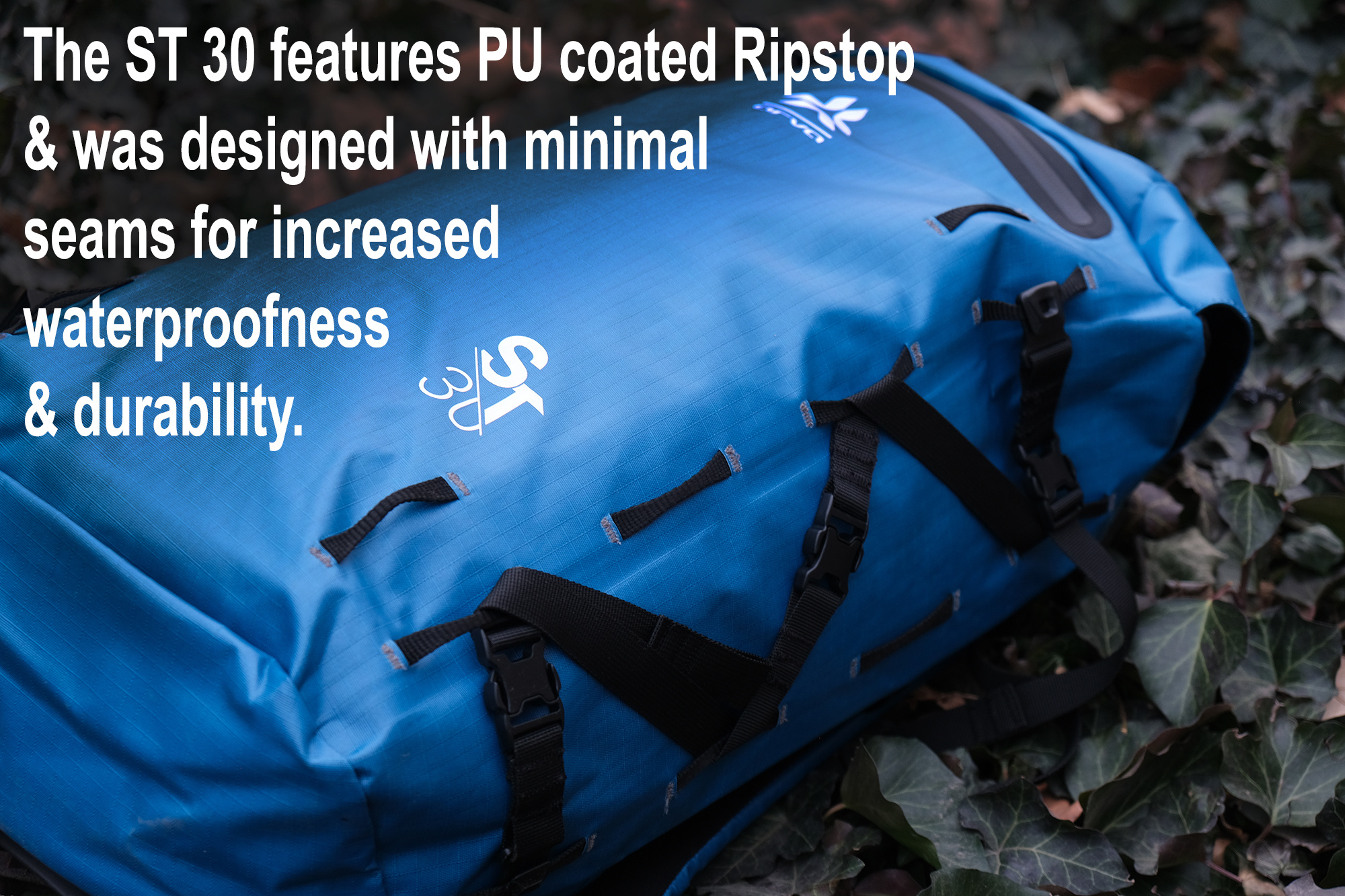 The ST30 Ski Trip Backpack is designed with simplicity and functionality in mind. It hits the sweet spot of storage coming in at 30L,  enough for a couple layers, snacks, even an overnight hut trip. It's minimalist construction and bomb-proof (and waterproof) PU coated ripstop fabric makes it the perfect companion for any day out on the snow. Arva intentionally designed this bag with as few seams as possible to enhance its weather durability. Just like the Yagi, it features a dedicated avalanche pocket which is an essential safety feature in any ski pack. Instead of zippers, it uses magnetic buckles at the top for easier access when your paws are mitted up.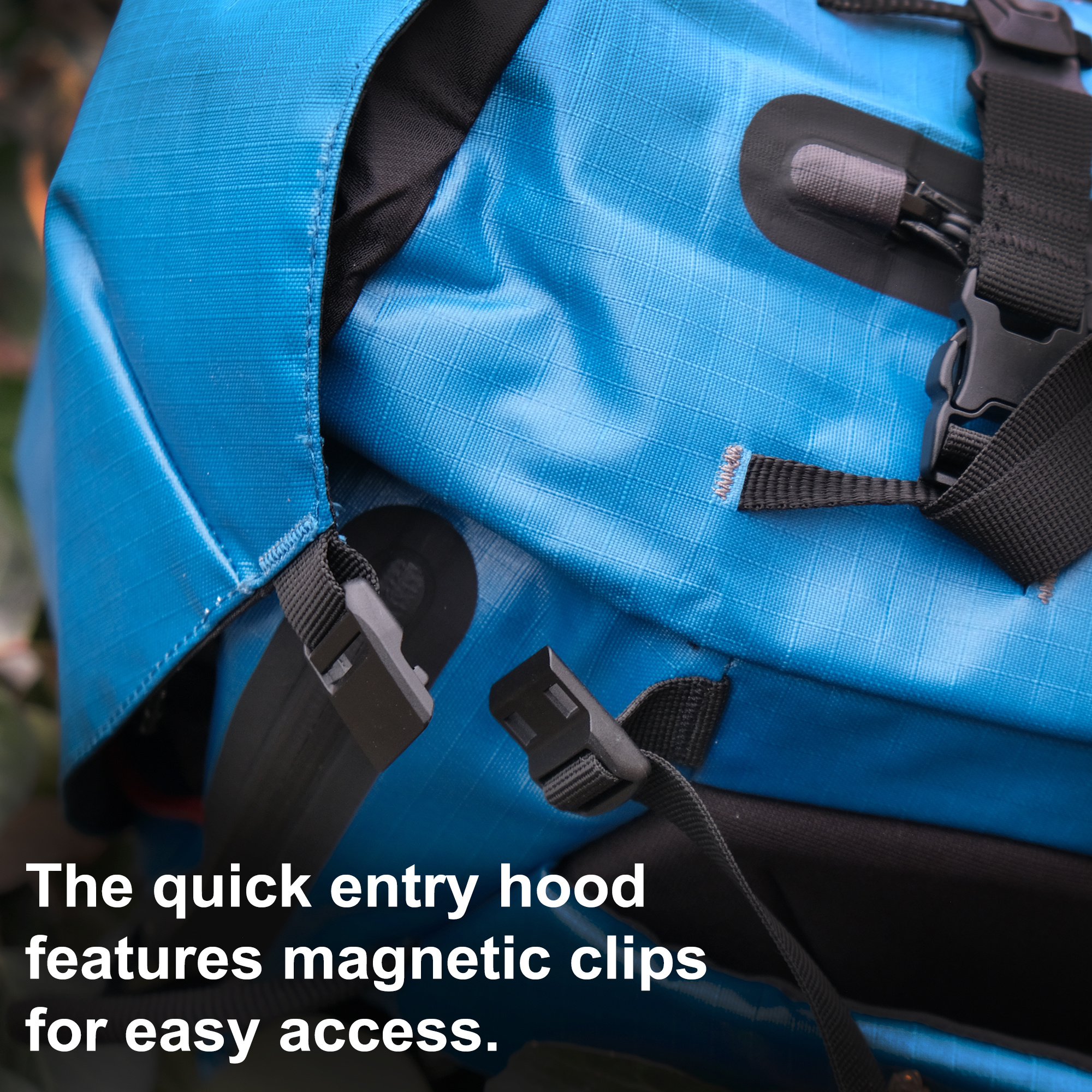 It also features multi-purpose exterior straps that can be adjusted for skis, snowboards, snowshoes and ice axes alike. When your pack isn't full these can even be used as compression straps to keep weight close to your back, a feature unique to the ST30. This pack can handle anything you throw at it and provides you with the freedom to organize your gear the way you want.  Arva ST30 is for you. 

The Winner?
It was close, but the Yagi has a slight edge when it comes to overall performance. It exceeds in the weight-volume ratio which gives you more space for extra layers and supplies while staying light on your back. It's internal compartments and ski-carry system provides more opportunities for organization but doesn't meet the versatility of the ST30's system. The ST30's bomber and overall lightweight construction makes it a pretty good option for the resort, while still shining in the backcountry. It provides that extra durability that you might want for chair-lift riding and gear-filled trunks. In the backcountry, it offers up versatility. Use the multi-purpose straps to carry your equipment the way you want while knowing that all of your avalanche safety equipment is easily tucked away and accessible. Both of these packs offer excellent, lightweight performance for the front and backcountry with simplistic yet intentional designs. Whichever way you go, you are guaranteed to have a new and improved basecamp!
The Specs:  
| | | |
| --- | --- | --- |
| Pack | YAGI 35 | ST 30 |
| Weight | 1145 Grams | 1150 Grams |
| Volume | 35L | 30L |
| Material | Spectra Fabric | N400D PU2 Ripstop |